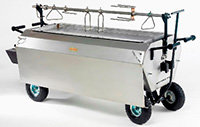 Enjoy the traditional delights of spit roasted pork with our spit roast machine kit. This sturdy spit pole and 240v motor will steadily rotate your meat in our roasters upper level cooking space. You can monitor its progress through the toughened glass viewing window before lifting up to the serving position for carving – where your guests get a real spectacle as you dish up in front of them. Our spit roast kit can also be used to cook a full lamb.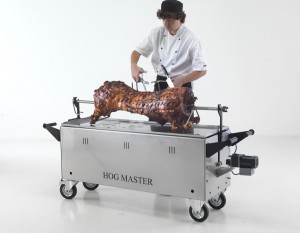 Ideal for catering at large events, our spit roast kit can whole a whopping 80kg pig or lamb. It comes with a carving tray that can be slid underneath your meat as you begin carving and it also acts as a hot tray to keep freshly cut meat hot whilst you finish preparing. The tray is warmed by two thermostat controlled burners.
A spit roasting kit adds drama and excitement to any event. We all know how good a pull pork bap with all the trimmings tastes, but there's something fun about watching it being cooked right in front of us too!
Give us a call to discuss this kit in more detail. We'd love to assist!