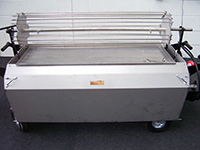 If pork isn't your thing, why not roast chicken on our hog roasters instead? A nice alternative, but just as tasty. With our chicken spit roast machine kit you can cook an impressive 36 chickens in one go! It's never been easier to serve hundreds of guests with traditionally roasted meat. You can use the chicken spit kit to cook turkey, beef joints and pork legs too – combine the cuts on the rotisserie and offer a varied menu.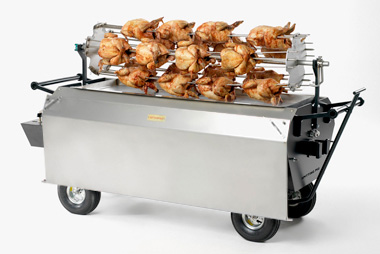 To use the chicken spit kit you need to use the spit kit pole, motor and carving tray with the chicken spit device, a rotisserie with 5 arms. This accessory really adds to the spectacle of our roasters so don't be surprised if your guests come up and peer in through the viewing panel to get a good look at their dinner! When your meat is ready to carve, simply raise the bar and start by detaching a rotisserie arm one at a time for carving. The meat will fall down onto our carving tray, which is also heated to work as a hot plate. Your food never needs to go cold, even when you're dishing up outdoors.
Come and visit our showrooms to take a closer look at this product.