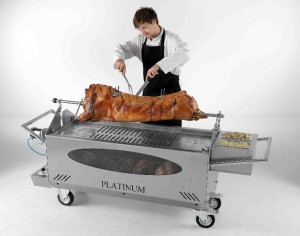 Looking for a professional spit roast machine for your catering business? We stock state of the art hog roasters with spit roasting poles, so you need look no further. With over 50 years in the A hog roast machine that has spit roasting poles included is often in demand and spitroastmachine.com is able to supply these machines for rent and purchase. We have years of experience in hog roasting and know what is required from a spit roast machine in order to produce the kind of food that will have people returning to your business time and again.
The spit poles on our machines are sturdy enough to be able to take the weight of a whole hog and the pork that is cooked will be both succulent and delicious. Spit roasting is also an ideal way to cook other meats such as chicken, beef and lamb, as well as producing tasty roasted vegetables too. The wide variety of food that is able to be cooked on a spit pole will give your business the reputation of being able to supply whatever food is required for any number of different occasions.
Hog Roasting Machines For Any Event
While the spit roast machines can be used to great effect indoors, they really come into their own when used for an outside event. They are incredibly mobile and the castor wheels are specially designed to deal with the types of terrain that you would generally find at an outdoor function. Steering the machine is also very simple, but above all, the machines look very professional which can only give people a good impression of your company and the service that you offer.
All of the staff that we employ have many years of experience in hog roasting and are on hand to answer any queries you may have and to provide advice whenever it is needed. The machines are so simple to use that even someone who has never done any hog roasting before will be able to cook pork or other meats that are appetising and appealing to guests of the event. This makes these machines the ideal choice if you are looking to start a new business or expand your existing one.
Rental Or Purchase Of A Hog Roast Machine
We have a number of options available for the rent or purchase of spit roasting machines and will be happy to talk through your options with you. Renting the machines can be an excellent opportunity to find out how they can benefit your business. We also have ex-hire machines to buy at reduced rates, which can be the ideal starting point for introducing hog roasts as part of your catering operation. Contact us today for more information.