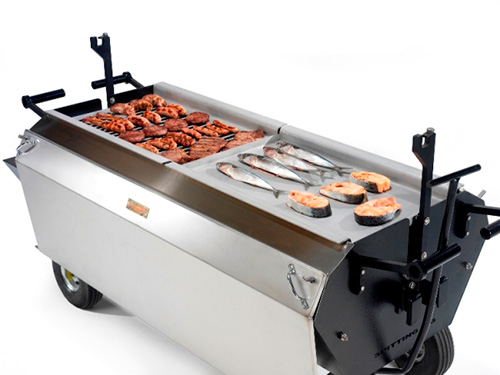 Possibly the most exciting addition to our spit roast machine range, the BBQ set can transform your roaster and take it to the next level. An excellent investment for catering companies, pub, hotels and restaurants alike. Get ready to cook sausages, burgers, steaks, kebabs and all your other BBQ favourites with ease, whatever the season.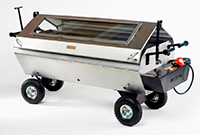 Our BBQ set works by sitting in the upper level of our Platinum roasting machines. The doors, usually used when cooking, are moved to the ends of the machine and hung there – ensuring the largest BBQ cooking surface. The grill is heated with thermostatically controlled gas taps so you can keep in control of your cooking temperature at all times. Just because you're BBQ'ing, it doesn't mean that undercooked or overcooked meat is a given. Get it right every time!
The lower cooking area of our roaster can be used to keep side dishes warm, such as: jacket potatoes, vegetables, sauces and garlic bread. This accessory really allows for versatile cooking!
Just like the rest of our roasting equipment, the BBQ set is really easy to use – even for the newest of chefs. If you need any assistance when using your hog roaster, just get in touch for advice.